Boko-Boko is surrounded by green bush and is located along the New Mombasa/Malindi highway in Kikambala. The environment here is characterized by Shambas (small farms) of local the Giriama tribes, with their animal husbandry and agriculture, as well as the surrounding dense Bush land. Cattle farms and sisal plantations with gigantic Baobab trees determine the landscape.
Although only 25 kilometres away from the lively city of Mombasa, Africa could retain itself here still much of its uniqueness. Travelling across the land, one is rewarded with impressive pictures of the life of the Giriama. By meeting them you will know that they are friendly people, who still live their traditional life.
Those who want to experience East Africa off the main tourist stream, and want to discover undisturbed the world of animals and plants of the coastal region of Kenya, will here certainly be at the right place. The variety of reptiles and birds in the "Porini" (bush) and its environment is impressive.
Indian Ozean and Kikambala Beach
From "Boko Boko, Porini Farm and Guesthouse" up to white extensive "Kikambala Beach" and the Indian Ocean it is approx. 2,500 meters. The way to the beach leads through farm and bush land and can easily be mastered either on foot, with the "boda-boda" bicycle service of the locals, or by rented bicycle! Those who want to can also transport to the beach by car can be arranged.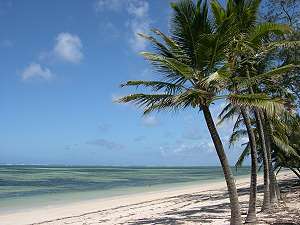 The blue Indian Ocean invites not only to do swimming, to
snorkel and to dive
, but offers especially during low tide a unique chance for of bird watching. Different herons, ibises, snipes and with some luck even African Fish Eagles can be observed from the beach and photos be taken!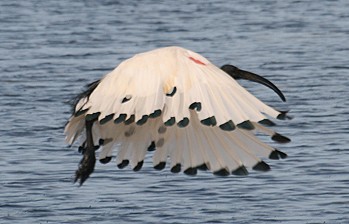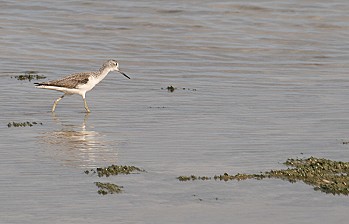 The Kikambala bay and beach offers the opportunity for enjoyable beach walks. For
divers
we offer the option to be collected from Boko-Boko directly by the diving school "Buccaneer Diving" (www.buccaneerdiving.com) for diving sessions booked!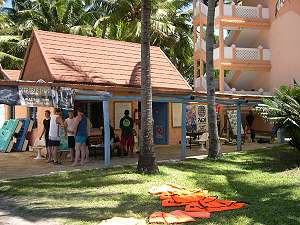 Please remember:
It is unlawful to export animals, plants as well as shells from Kenya !!!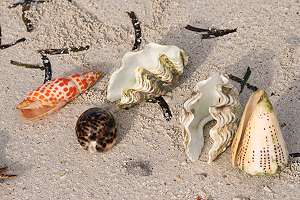 <

All photos of this page "Jörg Reinecke", use of the pictures of this home page require his censent.