Jambo,

You are not the type for a package holiday? You need no animation?
However, you are interested in foreign cultures; you love nature and exotic plants? You get pleasure from listening to the sounds of the bush in the evenings; you would even like to spend most your stay outdoor?



Than this is your page!




Here you have the possibility to make your dream holiday come true.

We welcome individualists. We like you to spend unforgettable days or weeks in Kenya. You will stay in a spacious farmhouse-style cottage or "banda", with shower, and a big roofed terrace. Go on voyage of discovery in the big garden. Relax on your terrace and enjoy the lush surrounding nature. Or spoil yourself culinary in the"Porini" Restaurant. (more Info about the restaurant: www.porini-kenya.com)



Away from the tourist hotels, we offer a quiet individual stay. This small private place owns only 5 comfortable guest cottages situated in the middle of a tropical garden resembling a farmhouse style. Beside monkeys, bush-babies, a rich bird population and a multitude of colorful butterflies, Boko-Boko Porini Farm you will see giant Aldabra Tortoises, crocodiles and a lot of tropical frogs. Giriama, the local tribe of the Kenyan North coast, live with their children live next door. So you have the opportunity to experience how tools, music-instruments and all sorts of useful things are being made with simplest traditional methods. Know more about the life of the Giriama!

Altogether there is much to discover. The botanist amongst you will require probably quite some time in order to determine all the tropical plants in the garden. Those who follow attentively the narrow walkways around the garden will take pleasure in the variety of the fauna. In a small water pond turtles are sunbathing and you may detect some Lizards, Perches and Catfishes. Frogs and Toads are keeping short the insects.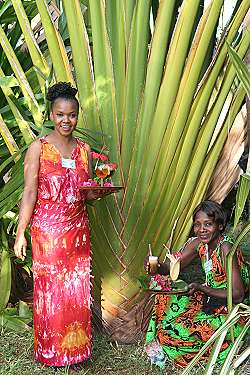 The night belongs to the bats, cicadas and crickets as well as to the bush-babies, who fill the nightly silence with their sounds. A camp fire under the open sky with its thousands of stars as natural illumination together with the music of the Giriama dancers will make you feel being in another world.

Although the daring monkeys now and again make off with mangos, papayas or bananas, we are proud of our animal guests. As well you find different kinds of land turtles and terrapins in the garden. Particularly the giant Aldabra tortoises (originating from the Seychelles) impress.

Those who want more than so much nature can work out by playing table tennis. And those who would like to relax will lie down on a sun bed next to the pool. If you want to the swim, snorkel or dive in the blue Indian Ocean, arrangements can be made.

Porini, being away from the tourist centers, is ideal to allow you to adjust before going on safari and to wind down after returning from it. From Porini in Kikambala it is not far to Mtwapa, which is situated at a creek, from where you can embark on a boat tour or arrange for big game fishing trip in the Indian Ocean. If you prefer a tour to Mombasa with all its sights we can arrange it for you.



Porini means bush in Swahili and that is what you should feel. Porini wants you to feel home in the African bush!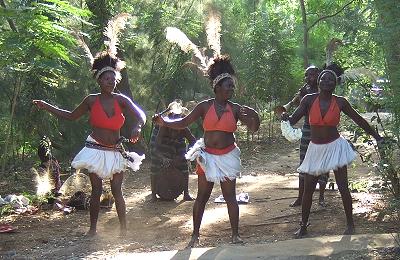 Links: I have put together some photos showing you the place and its surroundings, and what you can see by making a game safari. This is because the beauty of East Africa cannot actually be put into words. Under the link Bookings you will know who can comfortable book Boko Boko & Porini Farm from home.

Under the Links: I have assembled Photos picturing Boko-Boko, its environment and game safaris. Nevertheless the beauty of East-Africa can not really be put in words.


In Kenya, the Boko Boko team is looking forward to your visit


I will arrange and book your dream holiday:


Jörg Reinecke

holiday.in@bokoboko-kenya.de, in germany
0049 (0) 5822 2992